Pond Treatments
Click on the treatment of your choice for specific information, image and pricing.
Water Additives

EcoFix
Makes pond water clean and clear. Breaks down dead algae. Helps create a healthy ecosystem for pond fish.
Accu-Clear
Maintains crystal-clear pond water. Quickly clears cloudy pond water and helps filters function more efficiently.
Pond-Zyme Plus
Immediately begins breaking down fish waste and dead algae that causes cloudy water, sludge buildup, and debris that clogs pumps and filters.
Ammo-Lock
Removes chlorine & chloramines from tap water & detoxifies ammonia, continually produced in the pond, by waste matter.
Chlorine & Heavy Metal Neutralizer
Instantly neutralizes chlorine, copper, lead and zinc, as well as other heavy metals found in tap and well water, all of which may be toxic to fish and plants.
pH Up and pH Down
pH Down slowly lowers the pH of pond water (making it more acidic) without harming delicate pond fish or aquatic plants. pH Up slowly raises the pH of pond water (making it more alkaline) without harming delicate pond fish or aquatic plants.
AlgaeFix
Effectively controls many types of green or green water algae, string or hair algae and blanketweed in ponds that contain live plants.
Barley Clear
A highly concentrated suspension of natural barley and peat plus natural activators that quickly unleash the power of barley and peat into the water. Phenolic compounds found in the Barley naturally clears the pond.

Quick Start
Live nitrifying bacteria helps start and establish biological filtration.

Microbial Algae Clean
An alternative approach to algae control. Patented bacteria controls green water algae. Eliminated organic sludge & debris.

Fish Care

Stress Coat
Fish and Water Conditioner. Replaces natural slime coating on the skin of fish. Instantly removes chlorine from tap water.

Pond Salt
Natural fish tonic.Provides essential electrolytes fish need to survive.

PimaFix
Anti fungal remedy for koi & goldfish.

MelaFix
Antibacterial rremedy for koi & goldfish.

Test Kits

Test Kits
Nitrate, nitrite, phosphate, ammonia, copper, liquid master test kit & 5 in 1 test strips.
Algae Control
GreenClean
Powder formula. Safe for use in ponds, waterfalls and fountains. This is a great product for controlling algae in water features!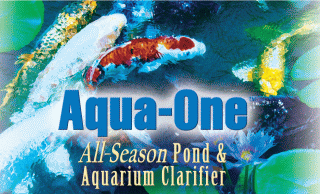 Aqua-One
Solves th most common water quality problems. Aqua-One is one of the most complex, strongest and most effective products of it's kind.
Prep

Dechlorinator
Even low levels of chlorine and chloramines can be toxic to fish.

Conditioning

Buffer
Will help to prevent wide pH swings which are very common in ornamental ponds from dawn to dusk due to respiration and photosynthesis.

pH
Safely and efficiently lower the pH of an ornamental pond within safe ranges.

Pond Salt
Formulated to increase koi and goldfish electrolytic intake.

Balance

BioClarifier Plus
Biological Clarifer with Activated Barley is an all natural, premium bacteria and enzyme product designed to remove green water and sludge and to seed biological filters.


AmmoniaFix
An all-natural bacteria and enzyme based product specifically designed to remove green water, ammonia, nitrite and nitrate.


Solutions

Clarity Max Plus
Clarity Max Plus with Activated Barley is designed to restore balance to the pond environment. It cleans ponds by breaking down organic materials that create problems for pond hobbyists in and around waterfalls, rocks, plant pots, pumps and filtration systems. It works on your worst pond problem!

RapiClear
Designed to clear water gardens and koi ponds quickly and safely by combining suspended particulate together. This process is commonly called "flocculation".

Algae-Off
Oxygen powered to deep clean rocks, waterfalls, plant pots, streams and anywhere organic debris accumulates.
Foam Remover
Remove protein foam from the pond or fountain's surface in seconds.
Pond Tint
Turns your pond an alluring shade of blue to help prevent algae formation.

Fountain Products

Sparkle Fountain Cleaner
A revolutionary product designed specifically to keep your fountain clean & clear
Limescale Remover
Removes limescale from fountains basins so fountain pump can run more freely
Water Quaility

PL
100% Natural, Safe, and Beneficial Bacteria.
Specially formulated for decorative fish ponds and lagoons.
SA
Sludge Away is especially helpful for ponds that have a rock or gravel bottom and where vacuuming is impractical. Speeds up the removal of sludge and muck naturally!
Autumn Prep
Specially formulated for pond winterization. Gets your pond ready for a clean and clear spring.

HC
100% Natural, Safe, and Beneficial Bacteria.
Specially formulated for natural ponds, lakes and lagoons.

Fish Health

TheraP
Specially formulated for promoting fish health. Provides a natural pond eco-system.

Cleaning

SC
A special blend of soy-based chemistry that is a proprietary formulation developed to clean surfaces such as pond liners, preformed ponds, pond deposits and scum buildup.

Algae Control

BSP
Barley Straw Pellets, 100% natural and organic ingredients. Improves water quality, fish and plant health.

Barley Straw Extract
An all natural concentrated barley straw extract. Improves clarity with no messy residue.