---
EasyPro TH Series Stainless Steel Pumps
Energy efficient, long lasting pumps for waterfalls and streams. Rugged motor is designed for long life and continuous duty operation. Motor housing is corrosion resistant stainless steel. Pump casing is made from abrasion resistant, fiber reinforced plastic for max life. Vortex design prevents clogging. Pumps have a built-in overload and overheat motor protection. All TH series pumps have a 2" female threaded outlet and 20' power cord. 2 Year warranty.
EasyPro TM Series Low Head Stainless Steel Pumps
Ideal for low to medium head streams and waterfalls. Flows up to 17,500 GPH. TM series pumps have a 3" outlet and a 30' power cord. Thermal overload protection. Top quality Japanese double mechanical seals for maximum life. 2 Year warranty. High volume in a compact design allows for use in larger skimmers.
TB Series High Head Stainless Steel Pumps
TB Series pumps are the best choice for water feature above 20'. Top quality Japanese double mechanical seals- over 100,000 hour life expectancy. 230 volt (1 hp available in 230 or 115 volt). Designed for use in higher head pressure applications. A minimum of 20' head pressure is required for TB12000 and TB14500. If your system has less than 20' head pressure, use a ball valve to create back pressure. 3" outlets and 20' power cord. Two year Warranty
EasyPro Magnetic Drive Pumps
Super quiet and energy efficient pumps sized for just about any need. Epoxy filled motors- no oil. 3 year warranty. EP4700N & EP6700N have a 2 year warranty and the EP9700N has a 1 year warranty.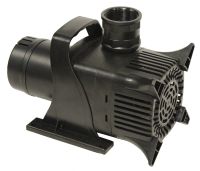 4700 GPH
500 Watts 30' power cord
28' Max Lift 2" FPT outlet
Can be run vertically or horizontally
$332.99



---